What is Kudzu?
Kudzu is nicknamed "the vine that ate the south." It is an invasive plant in the southern USA. It is very hard to control because it grows faster than people can kill it with mowing, herbicides, or other. It can grow about one foot per day. Kudzu is native to Japan but was brought to the United States as a vine to use to shade porches. It was later planted by the government to help to control the erosion during the dust bowl. 3,000,000 acres of Kudzu were planted. The Kudzu was left uncontrolled in a perfect growing area for the plant and grew rapidly. It is now listed as a weed and covers 7,400,000 acres of land. The plant covers habitat and smothers other plant species. Luckily, there are solutions to this issue.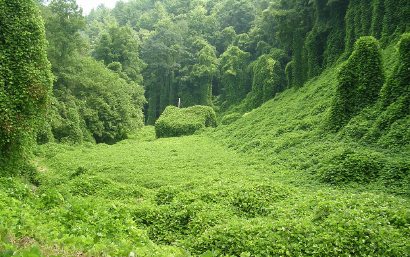 WHAT DO PEOPLE KNOW ABOUT KUDZU?
I took a survey at my school to see what people in my location know about the Kudzu problem. Here are the results.
I was surprised by the number of people that knew about Kudzu and had seen it in their area. I think people would be willing to help if given an easy solution to alleviate their Kudzu problem.
If you want to take the survey as well here is the link https://www.surveymonkey.com/r/MG2KHN9
SOLUTION TO THE PROBLEM
Making food out of Kudzu is a great way of using the invasive plant to your advantage. This is not the only solution, but it is a fun and easy way to help out that I think people are likely to try.
If you have Kudzu near you, I suggest collecting some and trying out some of these delicious recipes! If you don't see something you like here, try looking up some more recipes, there are plenty out there. These are a few of my favorites.
JUST CLICK ON THE PICTURE TO GET TO THE RECIPE
Kudzu Recipes
Tell me what you think!
Create your own user feedback survey
Also, what do you do to control Kudzu in your area? Do have any ideas? Let me know!
MY CALL TO ACTION
For my call to action, I educated the 5th graders at my school about Kudzu. It is important that they are educated about the issue. I told them what an invasive species is and why they are dangerous and then all about Kudzu. After that, I told them about how they could help control the Kudzu in their area or at least put an otherwise harmful plant to good use. I told them about Kudzu crafting that they can do such as making wreaths or baskets as well as some recipes that they can make with their parents. The children paid attention to my presentation and answered all of my questions. They were a great audience and I hope that they will go home and try to put the Kudzu near them to use. Maybe they will like one of the crafts or recipes and continue to make it with friends and family so the word will spread!
I am also working on getting an article posted on my school news site. I have already made the article and contacted the editors and I hope to get it posted soon. Once it is posted, everyone at the school can read it to learn about Kudzu and how to combat it! Once the article is there, it stays on the website. It won't get deleted, therefore people years later can see it.
What is invasive where you live? To add a marker on the map: press the plus button, name the marker the name of the invasive species, put it where you live.

MY SOURCES
Forseth. Jr., I.N. and Innis, Anne F."Kudzu (''Pueraria Montana''): History, Physiology, and Ecology Combine to Make a Major Ecosystem Threat" Critical Reviews in Plant Sciences, Vol. 23, 401-413, 2004.
Jenna. "Kudzu Recipes and Crafts." Kudzu Recipes and Crafts. Blogger, n.d. Web. 10 Apr. 2017.
"Create a Survey." SurveyMonkey. SurveyMonkey, n.d. Web. 10 Apr. 2017.
"Kudzu – Invasive Species." The Nature Conservancy. The Nature Conservancy, n.d. Web. 10 Apr. 2017.
Kudzu. Digital image. Wonderpolis. National Center for Families Learning, n.d. Web. 13 Apr. 2017.
Kudzu. Digital image. Logging and Kudzu. Google Sites, n.d. Web. 13 Apr. 2017.