While Latinas are constantly growing in success and prominence in the world, their portrayal in Hollywood still tends to be stereotypical. The characters Latinas are asked to play lack depth, and are restricted to being either funny, sexy, or unintelligent. Before you continue, take this poll to assess what comes to your mind when you think of a Latina character. (Answer honestly, even if you feel your answers contribute to a stereotype!)
POLL
Answer Quickly! When you imagine the first Latina TV/Movie character that comes to mind, what characteristics do you associate her with?
Now that you've seen the results of what Hollywood has embedded into people's minds as a "Latina" woman, below are four "case studies" between real Latina women and those portrayed in television shows and movies. Regardless of the actresses' real life success, these comparisons depict just how untrue and unjust characters Latina women are expected to play.
Lifetime Television Show, Devious Maids
Executive producer Eva Longoria says that Devious Maids debunks stereotypes of Latinas by showing that they are more than "just maids." However, they still play maids, and therefore the show reinforces an overused stereotype of Latinas constantly serving others above them. Similarly to Gloria Pritchett, mentioned above, the woman on the show are over-sexualized, scandalous, and subservient, and their lives outside of their jobs consist of affairs with rich white men, and constant gossip. This represents a major setback for Latinas or anyone else who might watch the show, as it enforces the shallow description Latinas are frequently associated with.
Rosalinda Gonzalez
Rosalinda Gonzalez is a Mexican woman, who has been an educator for forty-five years. She began her career as an English teacher, then worked as a high school counselor, assistant principal, principal, and assistant superintendent. More recently, she has worked for the last fifteen years as an executive officer of a charter school district and oversees the academic programs of over seventy five schools across the United States.
I asked her how she felt about the representation of Latinas in Hollywood. Here's a video of her answer. (Apologies for the poor video quality!)
As you can hear, Mrs. Gonzalez touches on the fact that Latinas have so much more personality, positive attributes, and history, that should not be eclipsed by a nice body or a stereotypical occupation.
Gloria Pritchett from ABC's Modern Family
Played by Sofia Vergara
Gloria Pritchett is a "fiesty Colombian" who highlights several Latina stereotypes and contributes to the suggestion that a Latina's most notable attributes are her exotic "hotness" and aggressiveness. Firstly, Gloria is married to a much older and successful white man. Her accent is an incredibly prominent aspect of her character, and is an object of constant ridicule from other characters in the show. Besides her extremely thick accent, Gloria is known for being loud, moody, and constantly wearing tight clothing showing off her curves. While Gloria's place on a comedy show is to be funny, and she definitely achieves that, the stereotypes that she embodies and continues to exhibit every episode represents the problematic representation of Latinas in Hollywood.
Damaris Zamudio
Damaris is the president of The Westminster School's Latino affinity group, Cafe Con Leche. We spoke about Latina women's Hollywood portrayal.
In addition to the stigma surrounding Latinas in Hollywood, Damaris talked about an essential component to this stigma, that is has a negative effect on young Latina girls by giving them false expectation for how they should look or be.
How Can Stereotypes Be Prevented in the Future?
While there is no possible way to completely alter the stereotypes that are already embedded into society because of Hollywood influence, there are some ways that the Latina stereotype can be improved, or even forgotten.
Recently, Latina actresses have been proposing television shows that feature Latina or Latino characters, but not focusing entirely on their race and therefore avoiding stereotypes and creating new character-norms. For example, Jane the Virgin, features Jane Villanueva, a hard-working writer who is accidentally inseminated and therefore has a child while still a virgin. Rather than being sexy and scandalous, Jane is quirky and extremely relatable. Jane's character in itself is a complete contrast to the Latina stereotype, and the actress who plays Jane, Gina Rodriguez, has made sure that people know how much her role represents a step forwards. In her Golden Globe acceptance speech for Best Actress in a Comedy Series, she said, "This  award is so much more than myself. It represents a culture that wants to see themselves as heroes."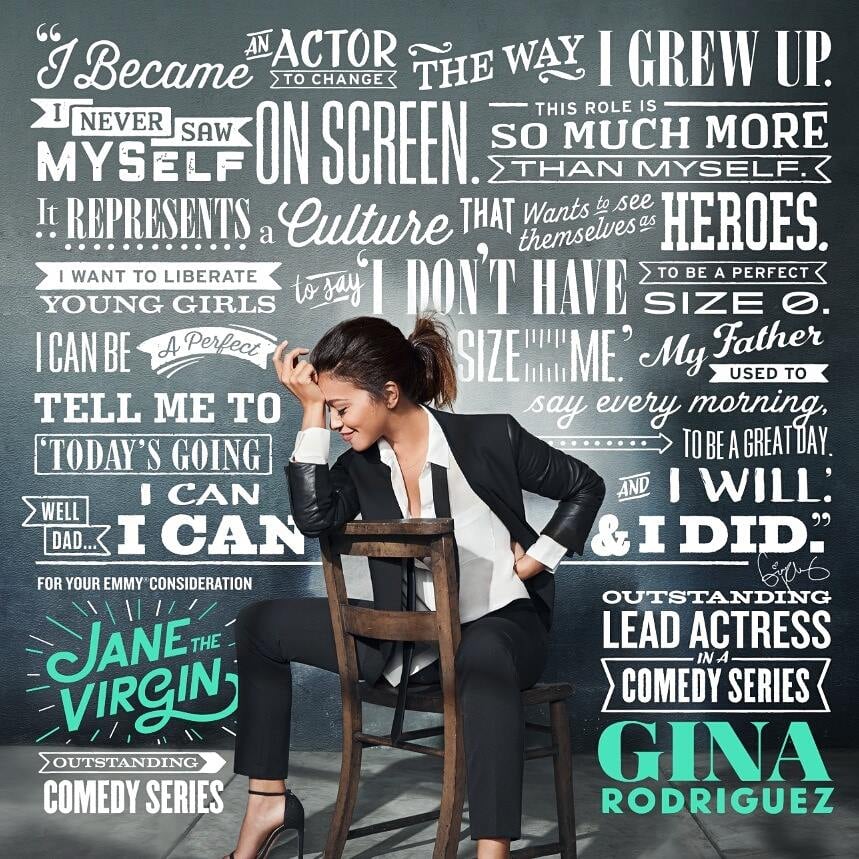 Gina Rodriguez is a perfect example of what Latino culture needs to overcome the stereotypes they have experienced for so many years, and if Hollywood begins to steer from those by promoting shows and movies such as Jane the Virgin, the view of Latino culture and especially that of Latina women will improve, and these cultures will finally be in roles that look past their physical appearances or occupations.
You Make the Difference!
What you say, how you react, how you associate things, regarding Latina women can positively affect their image and future in Hollywood and in society. Here is a "Padlet" that you can pin to to show the positive characteristics that Latinas should be known for rather than their looks and material things. For example, if you know a successful or inspirational Latina woman, pin a photo of her or some information about her life! You can also pin anything positive about Latino culture in general, like if you know a Latino family with great family values, find a picture to associate that with or write something about it.
Click on the plus sign to the right to add your pin! 🙂