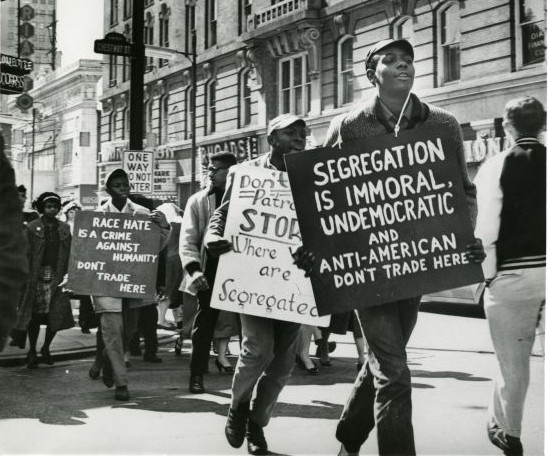 Louisville's School Integration Issue/Meredith v. JC
In 1954 the supreme court ruled unanimously in favor of Brown in one of the most important supreme court cases in history, Brown v. Board of Education. Louisville followed the Jim Crow Laws, and at the time before was very segregated. After the ruling, Louisville opened up all schools for integration, but still had majority (over 95%) of white kids in these East End schools of Louisville.  The city stayed segregated for around 20 years, because of de facto segregation, which is unintentional segregation. Transportation was an obstacle to school integration because people were segregated already. JCPS had to figure out a way to integrate schools in an equitable way. Black students  going to predominantly black schools in the West End of Louisville couldn't get transportation to traditionally white schools. In 1975, federal district court mandated that JCPS create an integration plan. JCPS created a school assignment plan which incorporated a busing program to increase racial integration in schools. To provide balance, JCPS created another component called the "15-50 plan" which was designed to use racial quotas for schools to use to assign students. The plans would send white students and black students to different schools around the city to create diversity and integration. The "15-50 plan" mandated that there was no more than 50% of a minority group and no less than 15% of a minority group in each school. JCPS's plans were in effect until 2006 when Crystal Meredith wanted to enroll her white child in Bloom Elementary. The JCPS school told the family that he couldn't attend Bloom, because it would disrupt the 15-50 policy. The Meredith family sued the county for discriminating against them, and no letting them go to school because of their race. The Supreme Court ruled in favor of Meredith, and it decided that you can't use race as the only factor to assign students to schools.  JCPS had to revisit their school assignment plan and re-write their policies to integrate schools. The county's revised plans included  additional variables such as social economics and income to assign students to schools.
The White Flight
 Around 60 years ago, and during the ending of Jim Crow Laws, the so called "White Flight" took place where many white people left the city to go to the suburbs and took industries, jobs, and wealth with them, leaving many blacks with no where else to go. It started once black people started to move in the white neighborhoods, and the FOR SALE sign was almost everywhere you went in those old white neighborhoods, as the video toward the bottom interviews an older women who's lived in the same house her house life, and describes her experience.
The Big Question and Answer
Today in Louisville the schools are integrated and that problem's been mostly solved, but many people in the Louisville Metro area want neighborhood schools, which brings up the question. How will you continue to integrate schools if they're are neighborhood schools in one of the most segregated housing cities in the US? If the city decides to put more time and energy into the housing issues, than the neighborhood schools will come more easily and the people won't be upset about it. It all starts with the housing, and then the rest will snowball downhill from there.
http://www.whas11.com/news/local/impact-the-race-and-segregation-of-the-9th-street-divide-1/409284150
VIDEO ABOUT HOUSING SEGREGATION ABOVE
DATA AND PICTURES